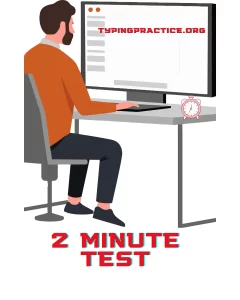 Importance of Two Minutes Typing Task
The two-minute typing test Challenge is constructive to look up the WPM for those who recently got essential typing guides or the person taking our free 30-day lesson. We are providing this tool after good research and challenging work. Even it opened for free for everyone. It's a quality platform of free classes and unlimited practice. In this two-minute tying test, we made a database that included vast numbers of words, and all were selected through the following conditions.
Specialty of this typing tool
Words that are most used in English are included.
Some uncommon words are rarely used.
A list of words that are hard to spell correctly.
Over 1200 words are listed on the database, and we change them occasionally. Most common words can give you speed and confidence, and uncommon words will provide you with the natural feeling of the test. And the word of third lists will give you more confidence to be a type master.
A learner can be a type master by practicing for one or two months. We have already developed 1, 2, 5, and 10-minute typing test tools you need so much time to complete. Yet we changed our database because some curious learners practiced hard.
In this two-minute Typing Test in English, you can determine your issues, allowing you to fix them immediately.
You can try many times in the task, and words appear radically. If you retry after taking part in a two-minute typing test, there is no chance of previous appearance words.
Recommendations before start 2-minute English type
As we know, type masters mainly use Touch typing because it's an available way of typing text. So we recommend taking the Tuch Typing lessons available in our free class. It's a technical recommendation, and we have tactically recommended it.
Sit appropriately in front of the monitor.
Use comfortable sitting and proper position.
Don't try to be speedy. Try to be accurate because it is essential. However, accuracy is most important in every field because quality is more important than quantity.
Use QWERTY layout. It is the most used. If you face any selection test of an organization, it will help you the most.
We believe continuous trying and improvement will give you the desired success. Typing Practice is only for providing free lessons and a platform for practicing like this two minutes task. We do not charge anything even if you don't need to register yourself in our free web-based tool or do not need any software installation on your device. Please note, if you are trying 2-minute English Typing practice on a mobile device, use our mobile device page. The software inserted on this page is only for desktops and laptops. Probably, it is not suitable for mobile devices.